Easy Email Reminders for Jira
Easy Email Reminders provides users with option to send customised reminder message emails to one or more parties between a start and completion date on a pre-determined emailing frequency
Download & Installation
Install the app following the standard instructions available in the Atlassian Marketplace.

Log into your Jira instance as an admin.

Click the admin dropdown and choose Add-ons.The Manage add-ons screen loads.

Click Find new apps or Find new add-ons from the left-hand side of the page.

Locate Easy Email Reminders for Jira via search.

Results include app versions compatible with your Jira instance.

Click Install to download and install your app.

If your app cannot be installed directly into your application, you may be prompted to download.

Click Close in the Installed and ready to go dialog.

You're all set & ready to go
Easy Email Reminders consists of 3 x screens:-
Create a Reminder Message
Reminder Message Schedule
A Reminder Email
Create a Reminder Message
This screen enables you to enter a short 150 character reminder message

Set the start date for the reminder message

Set the completion date of the reminder message

Set the frequency for repeating the reminder message

Enter the name and email address of the person who created the reminder message

Enter the email addresses or groups who will receive the reminder messages

The Send button sends the first reminder message to the nominated recipients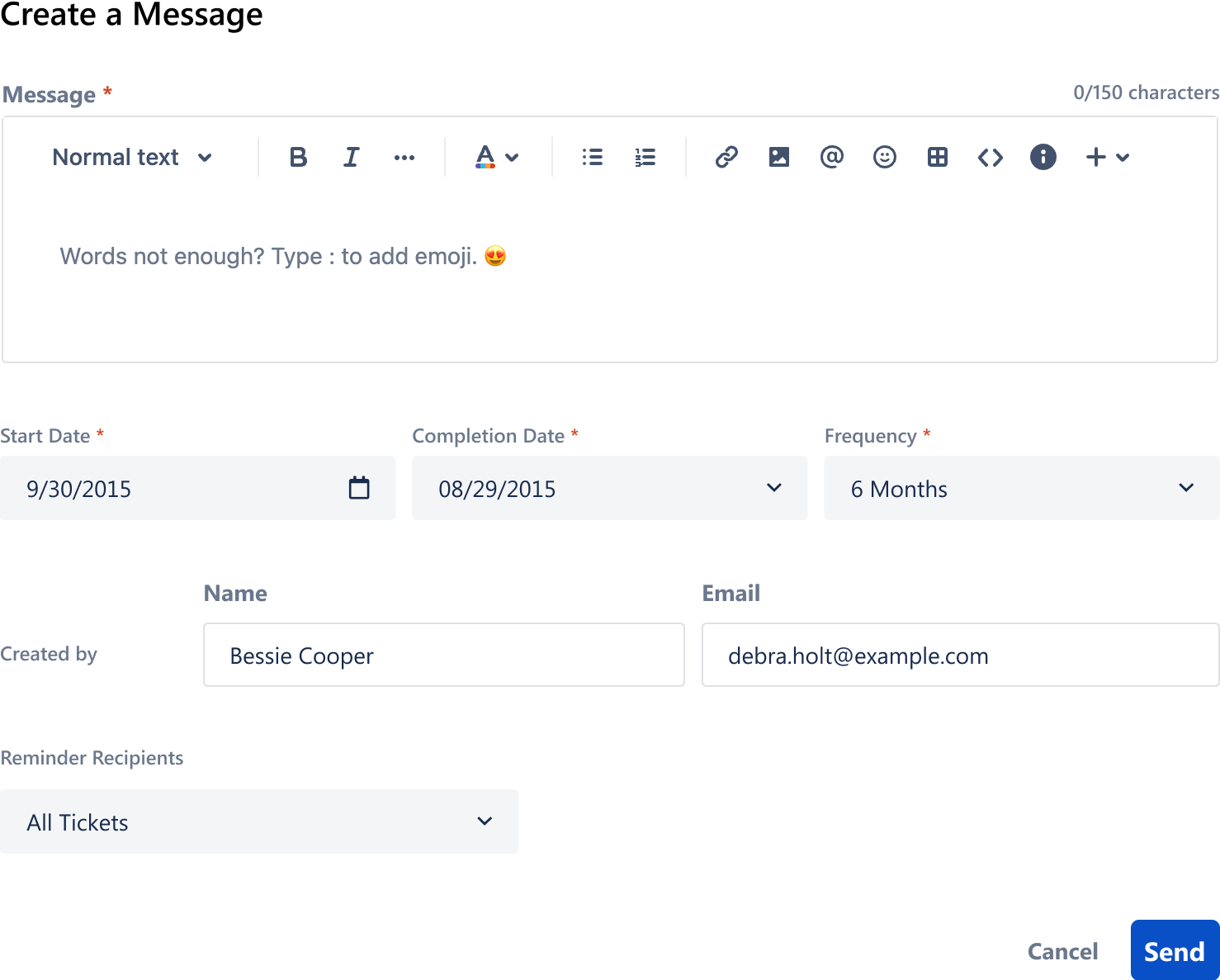 Reminder Schedule
The reminder schedule lists all active reminder messages, including:-
the reminder message

the name of the person who created the message

the name(s)of the recipients of the reminder message

the frequency of the reminder message

and the status of the reminder message
There are 2 x optional actions for each reminder message:-
Edit - modify the reminder email message

Delete - remove the reminder email message
Reminder Message Email
The reminder message email is sent to the nominated recipient(s) with a short reminder message
The message email is repeated, based on the predetermined frequency within the the start & completion dates period.
The Email Template Editor & Associated Screens below have been replaced and are no longer operational
Template Editor
The template editor enables the user to create a new or edit an existing email template
The template editor has:-
Name - template name
Description - template description
Body - text content of email template
Email Preview - enter an email address to test this template
Save - save the template
Cancel - delete the template
Simple Email Template - Example
Here is an example of email template code, that can be used with this app.
It shows a sample of basic options that are available.
#!html
 
<p>This is ticket <b>${issue.key}</b> from <b>${issue.project.name}.</b></p>
<p>And you have to do:
$!{issue.summary}
</p>
<p>How to do it:
#if (${issue.description})
${issue.description}
#else
is not defined.
#end
</p>
<p><b>Problem:</b> $!{cfUtils.getValue($issue, "customfield_10000")}</p>
<p><b>Steps to reproduce:</b> $!{cfUtils.getRenderedValue($issue, "customfield_10001")}</p>
<p><b>Remote user:</b> $!{cfUtils.getValue($issue, "customfield_10003")}</p>
<p><b>Tags:</b> $!{cfUtils.getValue($issue, "customfield_10004")}</p>
 
#if ($comment) 
<p> 
<b>${userKey}</b> commented: $comment 
</p>
#end
 
<p>Have a nice day!</br>
${issue.reporter.displayName}
</p>
Simple Email - & Distribution